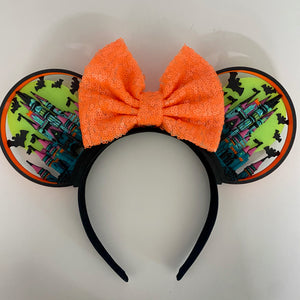 Neon Spooky Kingdom with Custom Bow
Features a 1" cloth covered headband,  Fully 3D printed detailed Spoopy Halloween themed castle with Black Glitter, Silver Glitter, and Purple Accents, featuring light reactive Green highlights.
These ears are FULLY ATTACHED to the headband and are not Interchangeable.
Comfortable enough for all day wear in the parks!
Extremely durable and well made.
Fits ages 5 and up.